Details

Category: Flora
Hits: 18238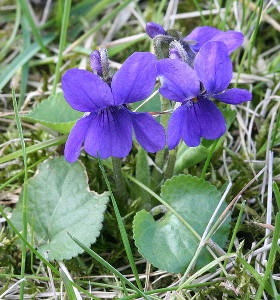 Toowoomba's floral emblem, the Viola Odorata is a species of the genus Viola. Commonly known as the Sweet Violet it actually is a European native. It's significance to Toowoomba and hence it being known around Toowoomba as the 'Toowoomba Violet' can best be explained by the following extraction that was found on Jean Ann French's Blog.

Toowoomba Violet – Floral Emblem Viola Odorata "Princess of Wales" commonly known as the "Sweet Violet"

The violet was declared Toowoomba's Floral Emblem at a meeting of Council on 11th January 1932. the mothers and other family members of the lads who went to war in 1914-1918, picked and sold bunches of violets to raise funds. the bunches each held 50 blooms and three leaves, tied with cotton and were sold for threepence. 1800 pounds were raised to build the Mother's Memorial now located in East Creek Park.

Characterized by it's sweet scent, heart shaped leaves, and vibrant violet colour, there is more to the Toowoomba Violet than first meets the eye.

Besides it superficial attributes the Viola Odorata has other applications. It has long been known for it's alternative medicinal properties which is commonly used for the treatment of respiratory conditions like sore throats. Other medicinal aspects of the plant are also being studied from a scientific perspective.

The Viola Odorata's usefulness continues, where in cooking the flower can also be used as an ingredient in salads and for decorative purposes . It's cooking practicality is not just limited to the flower but in fact every part of the plant can be used. Tea, for example can be made from using the whole plant.

From a symbolic point of view, the Sweet Violet's significance goes as far back as Ancient Greece where the plant was linked with love and romance.

To discover further useful information about this amazing plant that is the 'Toowoomba Violet' one only has to Google 'Sweet Violet' or 'Viola Odorata'.

Useful Links: Viola Odorata.

Details

Category: History
Hits: 16263
1814


October 29th: Allan Cunningham departs England on H.M.S. Duncan for Rio de Janeiro to collect specimens in Brazil where he remained for two years.


1816


September 16th: Thomas Alford born in Somerset, England
On the 20th December, Allan Cunningham arrives at Sydney Cove, Australia, aboard the Surry.



1827


In June of this year, Allan Cunningham discovers the Darling Downs.



1828


On his return from Brisbane, Cunningham discovers what later becomes named Cunningham's Gap.



1834


December: Patrick Leslie leaves London.



1835


May: Patrick Leslie arrives in Sydney, aged 20.



1838


May 10: Thomas Alford leaves England, aged 22.



1839


January 25th: Thomas Alford arrives in Sydney.
June 27th: Allan Cunningham dies in Sydney.



1840


June 9th: Thomas Alford's first child Elizabeth junior born at Patterson NSW.
July: Patrick Leslie establishes his headquarters at Toolburra.



1842


The Springs established (later to be renamed Drayton).
March 21: Thomas Alford departs for Brisbane.
May 7: Alford's second child, Mary born.
July 11: Elizabeth Horton arrives in Brisbane.
July: Thomas Alford and family arrive in Cambooya.
August: The Alfords move on to 'The Springs'.



1843


December, Battle of One Tree Hill (A battle between white settlers and the Jagera people of the Lockyer).



1845


Mail service commences in Drayton (Thomas Alford's store licensed as first post office).



1846


First general census taken, Population 658 (551 males, 107 females).



1847


Royal Bull's Head Inn first built.
Drayton population 50.



1848


Rev. Benjamin Glennie moves to Drayron.



1849


Horton sends William Gurney and William Shuttlewood to clear away reads a few miles north east of Drayton. (surveyed Drayton Agricultural Reserve)
Josiah Dent is found living in a tent amongst the reads, possibly the first person to live in 'The Swamp'.



1851


The National School (later renamed Drayton State School) established.



1852


Thomas Alford moves to 'The Swamp'.
July 22nd: Henry Alford - First white child born in Toowoomba.
August 29th: Both of Thomas Alfords children christened by Rev. Benjamin Glennie.
First day the usage of the word Toowoomba was noted on a public document.



1853


Town blocks surveyed and became known as Toowoomba.
July, Thomas Alford and family move back to Brisbane.



1856


St. Luke's church established.
Thomas Alford leaves Brisbane and moves to Pikedale station, past Warwick.



1857


28th May: Toowoomba's official name gazetted.



1858


First Toowoomba post office (in James Street).



1859


January, Thomas Alford and family move back to Toowoomba.
June 6th: Queensland separates from New South Wales.



1858


The area's first newspaper, the Darling Downs Gazette, published in Drayton.
Toowoomba's population is now 700.
'The Swamp' is renamed to Toowoomba.



1860


June 30: a petition of 100 names was sent to the Governor requesting that Toowoomba be declared a Municipality.
On 24th November, Toowoomba becomes a municipality.
Toowoomba population now 1000.



1861


4th January: first town council election took place, William Henry Groom polls the most votes.
Toowoomba Chronicle begins publication.
First School of Arts was erected in 1861 on land which would later be used for construction of third Town Hall.



1862


January, Toowoomba's first town hall built in James Street.
In August of this year, telegraphic communications channel between Brisbane and Toowoomba established.



1863


First St. Patrick's Church built on James Street.



1864


January 9th: Thomas Alford dies. (8th January 1884?).
William Horton dies aged 47.



1865


Toowoomba State South School, first actual school in Toowoomba established.
Council gains Queen's park.



1867


April: Rail link between Toowoomba and Ipswich opened.



1870


Alderman Spiro replaced William Groom as Mayor.



1871


Toowoomba Foundry established.



1873


Council was granted control of the swamp area and offered a prize of £100 for the best method of draining it.



1875


Toowoomba Gas and Coke Company floated.
Council pledged to erect street lamps with the assistance of the company.
Toowoomba Grammar School founded.
Toowoomba Permanent Building Society formed.



1877


February 1: Toowoomba Grammar School first opens it doors to students.



1880


Toowoomba's second town hall opened, designed by Sydney architect Albert Myers.



1881


August 12: Patrick Leslie dies in Sydney.
1883
Foundation stone of current day St. Patrick's Cathederal laid.



1887


Site of the School of Arts in Ruthven Street acquired by Toowoomba Council.



1889


March 17: Current day St. Pat's cathedral opened (St. Pat's day).



1892


Toowoomba proclaimed a township (1887?).



1896


Summer, The Lamington cake possibly invented in Toowoomba (Harlaxton House).



1897


Darling Downs Building Society formed.



1898


21 June: School of Arts building is badly damaged by a fire.


1900


February 20: Foundation stone laid for third Toowoomba City Hall.
New hall opens on December 12 of this year.



1903


Toowoomba Philharmonic Society founded.



1904


29th October: Toowoomba becomes a city.



1906


South Toowoomba Boys' School built on site of Toowoomba's second Town Hall.



1908


The Glennie School first opened as The Church of England Girls Grammar School with sisters Miss Margaret Lawrance and Miss Grace Lawrance as Co-Heads of School. There were 5 staff and 25 students.



1910


Completion of new Glennie School in Herries Street (on current site). Staff Day students and boarders moved to new building. The Main Building was designed by prominent Toowoomba Architect in the 1900's, Henry James Marks.



1911


June, Empire State Theatre opened, Technical college built on corner of Hume and Margaret Street.



1930


August 19: Henry Alford (First white child born in Toowoomba), son of Thomas Alford dies.



1932


Colours of purple and gold adopted by the city.



1933


February, Fire breaks out at the Empire Theatre, almost completely destroying it.



1940


McCaffertys establishes bus company.



1941


March, HMAS Toowoomba (J157) launched at Maryborough.
Cooby dam completed.



1942


Toowoomba/Drayton celebrate centenary of establishment.



1949


Drayton becomes a suburb of Toowoomba.



1950


First Toowoomba Carnival of Flowers.



1965


Perseverance dam completed.



1981


Heritage Building Society formed (Merger of Toowoomba Permanent Building Society & Darling Downs Building Society.



1983


Cressbrook dam completed.



1997


Grand Central Shopping Centre opens.



2003


16th May: HMAS Toowoomba (FFH 156) launched.



2004


Toowoomba celebrates a century as a city.



2006


July 29: Majority of Toowoomba residents vote against drinking recycled sewage water.



2009


Toowoomba celebrates the 60th Annual Carnival of Flowers.



2011


January 10: Flash flooding after more than 160mm of rain fell in the preceding 36 hours caused the death of four people and millions of dollars worth of destruction in a matter of hours.

2013


April: Construction begins on Toowoomba Wellcamp Airport

2014


October: Toowoomba Wellcamp airport opens for business.

2015


May: Outer Circulating Ring Road opens

2019


September: Toowoomba Second Range Crossing opens.
Toowoomba celebrates 70 years of The Carnival of Flowers.

Your assistance is required. If you are able to assist in the compilation of this timeline, or if you would like to report inaccuracies, please contact.

Details

Category: Miscellaneous
Hits: 19601
What follows is an alphabetically ordered list of the many parks and reserves in Toowoomba. Please note this list is not intended to be exhaustive and may not include every park in Toowoomba and is subject to change. If you would like to contribute or make suggestions, please feel free to do so and contact me.


Abelia Court Park
Airport Estate Park
Alford Park
Amanda Drive Park
Anderson Park
Andrews Street Park
Anita Drive Park
Armstrong Street Park
Art Gallery Park
Atherton Memorial Park
Avondale Park
Barlow Street Park
Batch Court Park
Birch Court Park
Blue Mountain Reserve Park
Botanic Gardens
Brendanbri Street Park
Bunya Park
Bushland Park
Bushland Reserve
Bushnell Street Park
Butt Street Park
Calypso Park
Captain Cook Recreation Area
Captain Cook Reserve
Catalina Drive Park
Cathro Park
Cecilia Street Park
Centenary Heights Park
Clearview Street Park
Clifford Park Racecourse
Clive Berghofer Stadium
Colvin Street Park
Coronation Park
Cottesloe Park
Culliford Drive Park
Cypress Street Park
Delta Scout Park
Dipple Street Park
Doherty Street Park
Domain Park
Dpi Jaycee Park
Drayton Memorial Park
Duggan Bushland
East Creek Park
Eiser Street Park
Elizabeth Kenny Park
Elvery Court Park
Emma Drive Park
Emmerson Park
Ernest Peak Park
Esmond Street Park
Eucalyptus Drive Park
Eustondale Golf
Fair Street Park
Fern Drive Park
Flagstone Creek Park
Ford Street Park
Freneau Pines Park
Gabbinbar Triangle Park
Garnett Lehmann Park
General Robertson Park
Gesch Park
Glen Lomond Park
Glenvale Park
Goggs Street Park
Gold Park
Gordon Park
Gorman Steet Park
Greenwattle Street Park
Griffiths Park
Grinkee Drive Park
Gundry Court Park
Halsworth Park
Hancock Street Park
Harlaxton Blocks Park
Harris Street Park
Harvey Park
Harwood Park
Heller Street Park
Hillview Street Park
Horn Park
Hurstway Court Park
Jack Street Park
Japanese Gardens
Jennings Street Park
Kate Street Park
Kearneys Spring Park
Kurtz Street Park
Lake Annand Park
Large Street Park
Laurel Bank Park
Leslie Park
Magann Court Park
Martin Klein Park
Martin Stenner Park
Mccafferty Park
Mcnight Park
Mcphie Park
Minimbah Park
Miranda Drive Park
Mort Estate Park
Mort Street Park
Nash Drive Park
Nelson Street Park
Newington Park
Newton Park
Nicola Street Park
Nielson Park
Noel E Robinson Park
Norman Park
O'quinn Street Park
Ole Street Park
Panorama Cresent Park
Paradise Park
Parsons Street Park
Pasco Lane Park
Perry Street Park
Picnic Point Park
Pixie Drive Park
Prince Henry Drive Park
Quarry Reserve
Queens Park
Redwood Park
Reg Veacock Park
Riethmuller Park
Rockville Park
Rocla Court Park
Rowena Park
Saal Park
Scout Park
Smart Drive Park
Smithfield Park
Snapdragon Street Park
Sondergeld Court Park
Southern Cross Reserve
Spring Creek Park
Spring Street Park
Storys Farm Park
Streten Park
Sunflower Court Park
Swartz Street Park
Thomas Park
Thoms Park
Tobruk Drive Park
Toowoomba City Golf Links
Toowoomba Golf Club
Toowoomba Park
Toowoomba Quarry Reserve
Tynedale Street Park
Vanity Street Park
Vann Street Park
Wagner Park
Warana Avenue Reserve
Warwick Street Park
Water Street North Park
Webb Park
West Creek Park
Westbrook Creek Park
Wiangaree Drive Park
Wilf Gowett Oval
Willowburn Park
Wine Drive Park
Woodward Park
Woonga Street Park
Wuth Street Park

Details

Category: People
Hits: 11323
1861 - 1862
1863 - 1864
Thompson, Abraham Hamilton
1864
1865
1866
1867
1868 - 1869
1870
1871
1872
1873
1874 - 1875
1876 - 1878
1879
1880
1881
1882
1883 - 1884
1885
1886
1887
1888
1889
1890
1891
1892
1893
1894
1895
1896
1897
1898
1899
1900
1901 - 1902
1903 - 1904
1905
1906
1907
1908
1909
1910
1911 - 1912
1913
1914
1915
1916
1917
1918
1919
1920 - 1924
1924 - 1930
1930 - 1933
1933 - 1949
1949 - 1952
McGregor, Dr Alexander Roy
1952 (June to August)
1952 - 1958
1958 - 1967
1967 - 1981
1981 - 1982
Duggan, John Edmund (Jack)
1982 - 1992
1993 - 1996
1997 - 2000
Bourke, Anthony James (Tony)
2000 - 2008
2008 - 2012
2012 - Current

Details

Category: History
Hits: 18051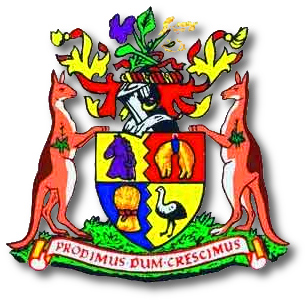 Crest:
A violet and sprig of wattle in saltire tied with a red ribbon is used as the crest in Toowoomba's coat of arms. The wattle and violet are Toowoomba's floral emblems and represent the cities colours of gold and purple respectively. The colours were adopted by the city in 1932.

Wreath (Torse):
In keeping with tradition, the wreath features the same heraldic colour (red) and heraldic metal (gold) as the mantling. It consists of two ribbons coupled together by twisting them several times, then wound around the helmet, designed to hold the mantling securely in place.

Mantling (Trimming):
The mantling streaming from the helmet consists of a heraldic colour (Red) on one side and a heraldic metal (Gold) on the other side.

Helmet (Helm):
The helmet, sitting atop the shield, is a carry over from the days when a coat of arms was used to distinguish combatants on the battlefield.

Shield:
The shield of the Toowoomba coat of arms is divided into four fields. The charges that occupy the four fields and their origin and meaning are summarized as follows:


1st Field - Horse head on gold background

The horse played an important role in Toowoomba's pioneer days, serving predominantly in the areas of agriculture and transport. The purple horses head on gold background represent the colours of this extraordinary garden city.


2nd Field - Golden Fleece (Sheepskin) on red background

The Golden Fleece symbolizes the sheep that would have grazed on lush pastures. The red background could possibly symbolize Toowoomba's volcanic rich red soil.


3rd Field - Sheaf of wheat on blue background

Wheat grain was the main production crop in Toowoomba's early days. The blue background symbolizes clear skies of the Sunshine State.


4th Field - Emu on gold background

The emu, a large native bird and unofficial faunal emblem of Australia was originally intended to be used as one of the supporters of the shield. This was decided against as the Australian coat of arms already had a kangaroo and emu as supporters. Instead it was incorporated into the 4th field.


Supporters:
Two kangaroos are used as supporters of the shield. A sprig of wattle is placed on each kangaroos shoulder to make it easily identifiable from other coat of arms.

Compartment:
A grassy mount is used as the compartment upon which the two supporting kangaroos, shield and scroll of Toowoomba's motto rest.

Motto:
Toowoomba's motto, the Latin Prodimus Dum Crescimus, translates to We prosper as we grow, indicating Toowoomba's prosperity and progression as a city.

Useful Links: Coat of Arms
Please report inaccuracies: Contact